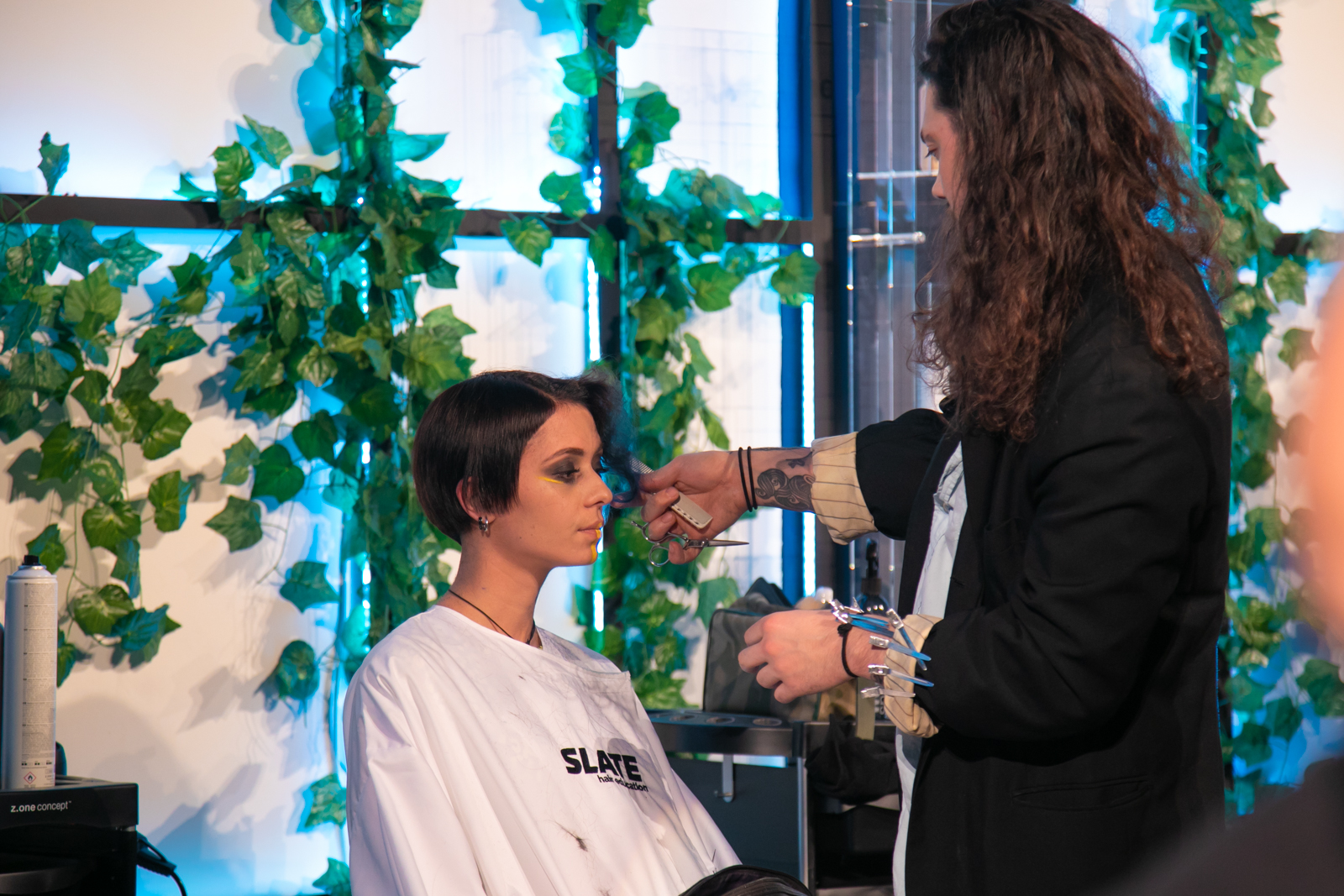 BOOKING SLATE FOR AN EVENT
SLATE LOOK AND LEARN SEMINARS
INTIMATE LEARNING ENVIRONMENT
Our Look & Learn Seminars deliver an insight into the unique SLATE way of delivering education. While the emphasis is firmly on technical work, dazzling prepared presentation looks complement the live step by step cutting, executed by the on-stage team. The Look & Learn seminar format offers a high degree of flexibility, ensuring that you meet both your audience expectations and your business objectives. Choose a Look & Learn Seminar when you need to satisfy a variety of requirements in a specified time frame and specific audience.
Audience size: Depending on venue
Event running time: Max 2.5 hours per session
SLATE SHOWS
INSPIRING & INNOVATIVE EXPERIENCE
SLATE Shows are memorable events. Our experienced team will capture the imagination of your audience and make certain they are inspired and energised. Suited to large audiences, the Show format consists of short powerful video, images, imaginatively choreographed presentations of finished models and beautifully narrated technical demonstrations that illustrate exciting new skills. Like all the events in our repertoire, our Shows are tailored to fit the client's needs and audience expectations.
Audience size: Depending on venue normally larger
Event running time: Maximum 90 minutes

SLATE can create a bespoke package whether an intimate tutorial in your salon or an inspiring visual hair show in a large venue, we will design a tailored event that meets you and your business needs. Our dedicated team of advisers is on hand to give the very best advice on which event is right for you. So leave the packing to us, and let our team make sure that your experience is the best one.
A NO OBLIGATION QUOTE IS JUST A PHONE CALL AWAY.
TO DISCUSS YOUR REQUIREMENTS CONTACT:
Michael on +447799526118 or send a message below:
Looking for hands on COURSES? Check out 1 ON 1, PRIVATE or UPCOMING COURSES at our London hair Academy.